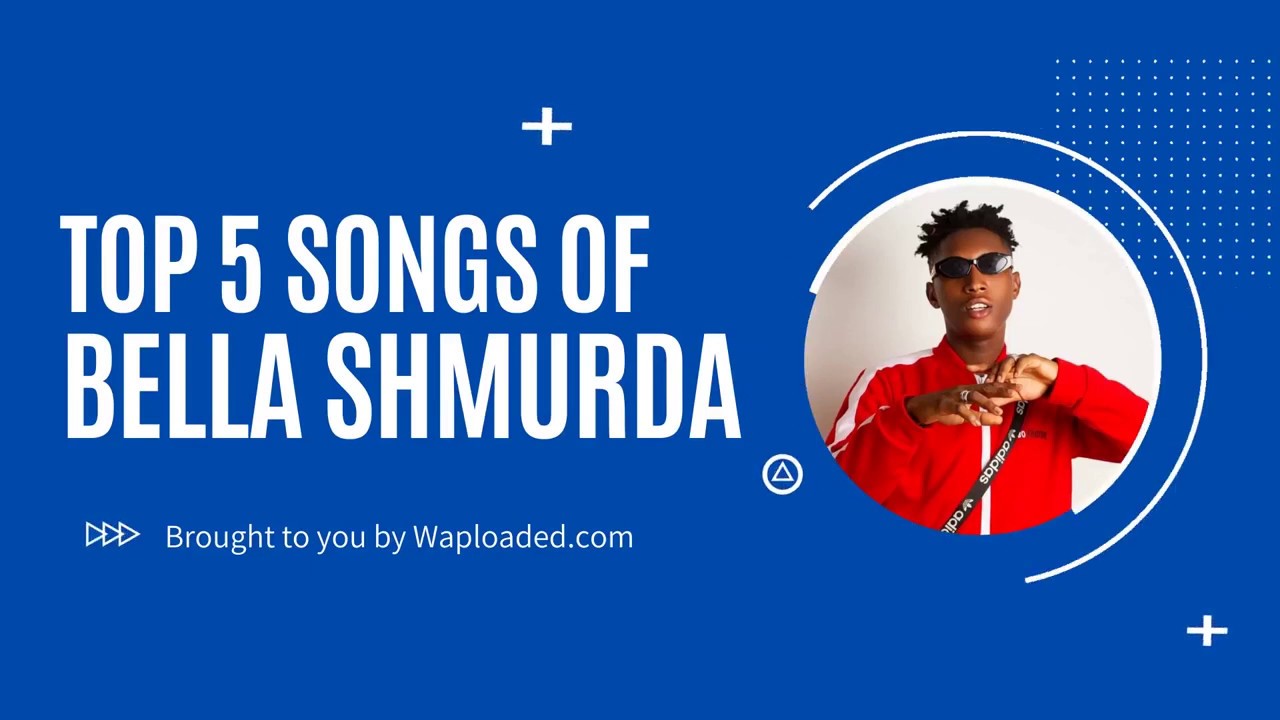 On this week's episode of Waploaded List we bring you the Top 5 songs of Bella Shmurda. Waploaded Media is a lover of entertainment, and has decided to be bring you a weekly doze of top songs, recent songs, most popular song and various categories to showcase Nigerian and South African music to the world.
Akinbiyi Abiola Ahmed, 23years old, better known as Bella Shmurda is a Nigerian Singer, Songwriter, entertainer, stage performer and a recording artist.
Bella Shmurda developed passion for music at a very tender age, he tried his best to rise to mainstream in the Nigeria Music scene, He released a lot of freestyles which he uploaded to his social media handles while he was in school, but his efforts was not noticed till one of his works caught the attention of Olamide YBNL boss who later signed him to YBNL.
The Top 5 songs of Bella Shmurda
1. Bella Shmurda - Vision 2020 ft. Olamide
Vision 2020 single remix features YBNL Boss Olamide to give the song a new meaning. In the song they discuss about the hustle in Nigeria and failed promises from the government, hence they went into doing all sorts of Jobs.
Quotable Lyrics:
Ghetto where we hustle, vision 2020
Our government dem promise
You know say boys go chop
Everyday we scamming hmmm
All night, no sleeping
Mo ya'wo lowo Lati, I go Alaba, I buy lappy
Hustle for six months, I no get money
Shoutout to my niggas wey dey sub for me
Watch Vision2020 Visuals Here >>
2. Bella Shmurda - Sho Mo Mi
Well i like to call the song "Baby Sho Mo Mi", it's a song which talks about the love he's found and the promises and sacrifices that can be carried to fulfill them.
Sho Mo Mi in Nigerian Yoruba Tribe means, "Do you know me?" more like bragging to what someone can do for love.
Quotable lyrics:
Look into my eyes
Tell me What you see paradise
Yeah yeah yeah
Girl I nor go lie
Yeah
I swear I nor go throw you like dice
Watch Sho Mo Mi Visuals Here >>
3. Bella Shmurda - Omnipotent
In Omnipotent, Shmurda calls on God, telling him the promises and "Money" is taking too long to arrive. The Big Juice film directed video sees Shmurda in the skies as he deems to be closer to God in the call.
Quotable Lyrics:
Omnipotent, omniscience, everywhere silent, I need your presence
Omnipotent, omniscience, they be wan chase me, I'm still present
Omnipotent, omniscience, ah, I pray to God I do The science
I pay my tithe and dues
Watch Omnipotent Visuals Here >>
4. Bella Shmurda - Upgrade
There yet to be a visual for the January 2020 released smashing hit single. The song has been confused for the title "Fatimo Doh" because of the lyrical uplift that verse gave the general song. The song was produced by ID Cabasa.
Quotable Lyrics:
Fatimo ndo
Fatimo ndo
Ye ye
Omo yen ndo
Omo yen ndo
Ye yeeee ye ye ye
5. Bella Shmurda - Only You
Only You song was produced by Bylinx and Directed by DammyTwitch. The 2019 song made it to Waploaded List as it was one of the earliest and phenomenal visual from Shmurda.
Quotable Lyrics:
Wire (wire)
Ye ye ye ye
Ye ye ye ye Ahhh ye
On a Friday Riding on a highway
She say she wan come my way
That same friday she say make we runaway
Disclaimer: This list is Waploaded's Editors review, it may not be of the general opinion, if you have another list or contribution, kindly add it to the comment list below, if you have an artiste we should mention in next week's episode also use the commenting box below to tell us.
Fix Error:
If you encounter an empty download link, drop a comment or email us the link to
reports@waploaded.com
Download Page (MB)